We are an independent End-point Assessment Organisation (EPAO) that puts the apprentice at the heart of what we offer and deliver. Specialising in Digital Apprenticeship EPA's, our team has extensive industry knowledge and have worked across the Digital Sector the whole of our careers. We strive to help people demonstrate their potential; whilst being professional, transparent and credible in everything we do.
We are focused on building relationships and through these established networks we have been able to build and design Digital Apprenticeship EPA's based on the feedback/requirements collected from Employers, Apprentices and Training Providers.
We pride ourselves on creating realistic work-related Synoptic Projects and assessments to ensure the apprentice has the best possible experience whilst engaging in our products and services, at the same time as ensuring individuals and businesses achieve real value.
We are continuously looking at new innovative ways to utilise technology to improve the services and experience we offer the apprentice, making sure we use the most flexible platforms available to enhance the EPA experience.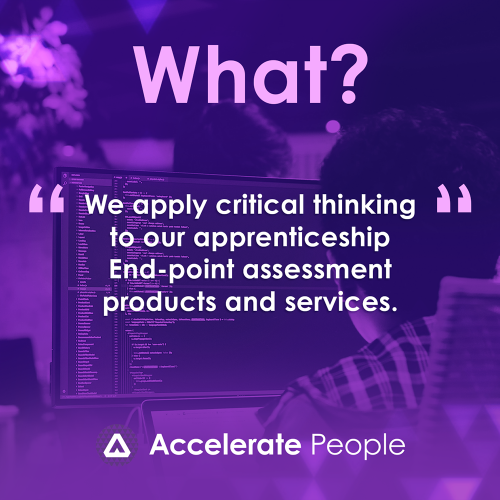 A note from our Co-Founders
" We are immensely proud to have been able to bring together a group of professional individuals to join us at Accelerate People Ltd in our new venture to offer End-point Assessment in the Digital Sector. 
On-going conversations with the employers we have worked with for many years have continually requested our support with their apprentices and provision.  This new venture enables us to create this opportunity and fulfil their requests. 
The team we have assembled are passionate and dedicated to make sure the apprentices, customers and digital technology are at the heart of everything we do. "
Best regards  
John and Sam 
Co-Founders Accelerate People Ltd
Interested in joining our team?
If you share our values and would like to join our team, please register your interest on the the following link and we will be in touch: